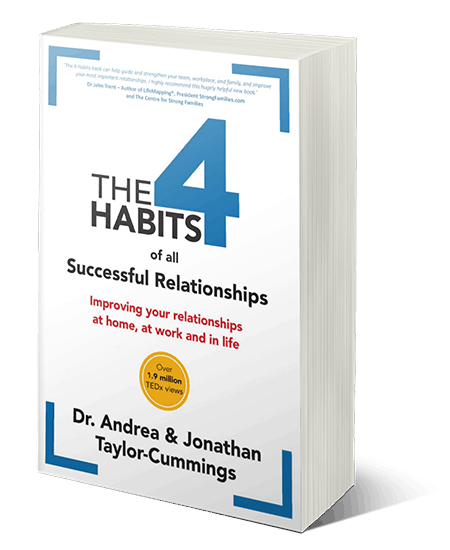 The 4 Habits of ALL Successful Relationships
The simple reality is ALL relationships face a similar set of inevitable hurdles. Success comes from learning how to get over the hurdles ahead of time, and taking personal responsibility for "turning up well" in your relationships.
This book will help you understand both WHY you need to be intentional about building your Relational Intelligence and HOW to do it – by changing your behaviours from habits that damage relationships to habits that strengthen them – at home, at work, and in life!
With the 4 Habits, the Taylor-Cummings have put together a template to help anyone have better relationships – whether in the boardroom or the bedroom! Dotted throughout with real-life examples, they present with clarity well-researched wisdom and strategies to enable anyone to develop their connection and communication with those who matter most. The ideas in this book aren't just something to read, but to put into practice and reap the rewards.
Rob Parsons
Founder and Chairman, Care for the Family
The internet is littered with superficial, relationship self-help manuals but this "work" is quite different in three striking respects: it is authored by a husband and wife partnership giving different perspectives; it covers both personal and commercial, work place relationships; and having been there and got the tee shirt, Jon and Andrea share their own lived experiences while weaving a wealth of research deep into the fabric.  The conventional manuals resemble the highway code. This is the degree course for those who really want to understand the "whys" of bad relationships as well as the "how tos " of successful and fulfilling ones. And to cap it off, it is a pleasure to read and work through.
Sir Paul Coleridge
Founder and Chairman of Marriage Foundation
Healthy, respectful relationships focused on mutual flourishing are the bedrock of the lives of couples and families and are vitally important in the workplace as well. This is also a key social justice issue as the evidence shows that healthy couple relationships are a bulwark against poverty, so I warmly welcome this practical book on how we can all keep our relationships in good repair and iron out those bad habits.
Andrew Selous MP
co-chair all party Parliamentary group on supporting couple relationships and reducing interparental conflict
This book is a treasure chest of rich vignettes, reflective questions and practical exercises that deepen our understanding of factors that can damage relationships and actions we can take to develop healthy relationships. It is not just a book about personal relationships, it offers insights as to how we can build productive relationships in the ever increasing complex work settings we now inhabit. The blend of honest reflection and evidence based research material makes this a wonderful resource.
Dr. Sue Dopson
Professor of Organisational Behaviour, Fellow of Green Templeton College and Deputy Dean of Saïd Business School, University of Oxford
It's one thing for someone to hand you a map. It's another thing to have an expert guide walk you to that next great place. In this case, it's two guides, Dr. Andrea and Jonathan Taylor-Cummings. Their 4 Habits book can help guide and strengthen your team, workplace, and family, and improve your most important relationships. I've been blessed to get to know both Jonathan and Andrea and I highly recommend them and their hugely helpful new book.
Dr. John Trent
Author of LifeMapping®, President StrongFamilies.com and The Centre for Strong Families
In this book Jonathan and Andrea Taylor-Cummings provide us with hands-on, practical, and timeless principles for building wholesome and enduring relationships that are urgently needed at all levels of our modern society. This book shines a ray of hope in the dark areas of conflicts in our world where the spirit of good relationships is gradually fading.  Reading and applying the principles admonished throughout these pages of this book can only serve to engender and strengthen healthy relationships.
His Excellency Seth George Ramocan CD
High Commissioner for Jamaica to the United Kingdom
I welcome this publication from Andrea and Jonathan because I know that their 'talk' in the book is based on their 'walk' in life.  Secondly, inclusive teams, organisations, societies or nations all require secure personal relationships; The 4 Habits provide a perfect template. Thirdly, in positioning Curiosity, Care, Asking and Connecting as habits, they display their understanding of a fundamental aspect of the human condition - we are creatures of habit, therefore in changing our habits, we change our lives.
Linbert Spencer OBE
Inclusive Leadership and Performance Management Consultant / Executive Coach, Author, Co-Founder of The Centre for Inclusive Leadership
Andrea and Jonathan provide an invaluable service by distilling a deep seam of academic research and well-honed experience – professional and personal – into 4 Habits everyone can put into practice. Readers who take time to gaze through the powerful lens they hold up to relationships, whether with remote work team members, or closest friends, will be enabled to make better choices, build stronger bonds and live more resiliently.
Dr Samantha Callan
Director and Co-founder, Family Hubs Network
Supporting our people's emotional health and wellbeing has always been a key priority for The De Beers Group. The pandemic experience highlighted the important link between life at home and life at work, and that strong resilience comes from strong relationships. This book provides an excellent resource for equipping everyone to get better at relationships so they can thrive as individuals, colleagues, couples and families. I couldn't recommend it more highly.
Paul Rowley
Executive Vice President, The De Beers Group of Companies
This is an essential and timely must-read that will provide a new and powerful lens through which to strengthen and nurture your relationships at work and in life. Packed with hidden gems, real-life stories and practical how to's, 'The 4 Habits' takes a complex subject and makes it accessible to all. Cultivating healthy relationships can have a significant impact on our wellbeing and happiness, making relational intelligence a vital skill for life!
Kirsten Samuel
CEO and Founder of Kamwell (Employee Wellbeing Consultancy)
Relationships matter, they are one of the most important investments we make at home and at work. Many companies talk about the importance of relationships but fail to give the support to do relationships well. This book is a clear roadmap on what to do, and how to build long term relationships intentionally. The four habits provide a clear framework for transforming good relationships into great ones.
Robert J. Gardner
Executive Board Director of St. James's Place Wealth Management, Co-Founder of Redington, and member of the Young Presidents' Organisation
At the

De Beers Group

we believe in

looking after 'the whole person' and the things that matter most to

us

– especially where work impacts family life and vice versa. Building quality relationships at work and home is central to building a thriving workforce.  This book provides the 'how to' for developing strong Relational Intelligence and doing relationships well.  A vital resource for employers and employees alike.
Matlhogonolo Mponang
Head of Human Resources: Diamond Trading, The De Beers Group of Companies
The importance of relationships has never been more critical and The 4 Habits provides invaluable and tangible tools and behaviour changes to build successful relationships both at home and at work. The three-part structure makes it easy to digest and implement with strong reference points so the reader can make steady and lasting changes. A fantastic toolkit for us all to build our essential relational intelligence skills.
Chris Cummings
CEO Sonas Group ([email protected], Future of Work Insights) & Co-Founder Inside Out Awards
Deep within we yearn for flourishing, healthy relationships - for an antidote to the division too often normalised in modern media. We know that it takes effort to build great relationships in our work, home and community.  Andrea and Jonathan offer humble examples from their own lifetime struggles and a heartfelt, deeply practical model for targeting that effort brilliantly.
James Entwisle
Chair of trustees, FairLife Foundation and Agape Alive In India, Advisory Council member, TLG charity
We all want great relationships but do not always have the skills to develop and maintain them. This book provides an insightful guide to building strong relationships on purpose, with principles that apply both at home and at work. Full of compassion, honesty and empathy The 4 Habits is inspiring from page 1.
Jeremy Lindley MA FRSA
Business Leader, non-executive Director and Chair of Trustees, Soulmates Academy Foundation
This book by Andrea and Jonathan Taylor-Cummings highlights the importance of acquiring and building relational competence in our marriages as well as business situations. A well thought out manual for high achieving people.
Richard & Maria Kane
Founders of Marriage Week UK & International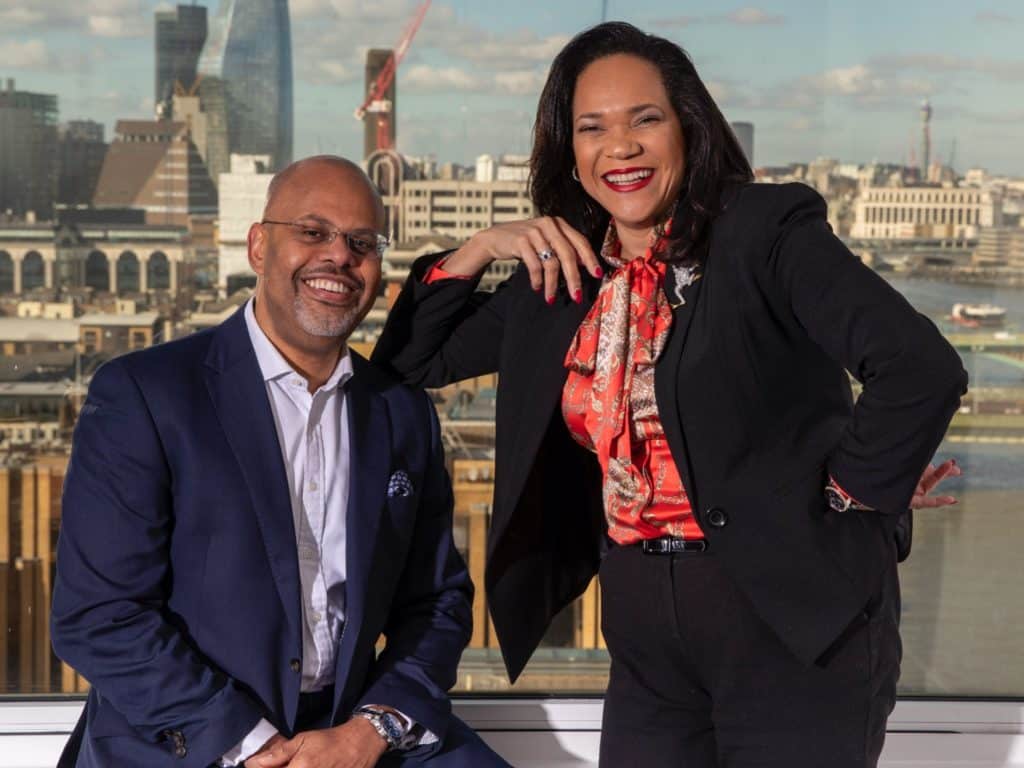 Dr Andrea & Jonathan Taylor-Cummings are recognised authorities on the subjects of relationships and marriage, with numerous public speaking engagements, TV and Radio appearances.
Founders of 4 Habits Consulting and Soulmates Academy Foundation, they have a vision to equip as many people as possible to build healthy relationships – at home, at work and in life.
As city professionals and entrepreneurs themselves, Jon & Andrea have first-hand experience of the inevitable relationship challenges of high-stress careers and the pressures of living and working together 24/7. 
They have been married for 28 years and live in the UK with their two teenage children.
The quality of our relationships impacts just about everything that really matters most. They impact how we "show up" and what we are able to achieve – at home, at work and in life. They impact our health and wellbeing, and ultimately, they determine the quality of our very lives.
But successful relationships don't just happen automatically. They take work. The problem is, often we have no idea what to work on! Every relationship faces hurdles. Our different views, opinions and approaches as individuals mean we have different expectations and when those expectations are not met, we feel frustrated and disappointed. Unaddressed and repeated over time, this frustration leads to broken relationships, broken homes and broken people. So many relationships lose out because we are not equipped to do relationships well before problems arise… until now.
Based on over 25 years of working in relationship education, in this book, Dr. Andrea & Jon Taylor-Cummings share four fundamental habits that often distinguish between successful and unsuccessful relationships. Every successful relationship displays them and every failing relationship is missing at least one. By learning the principles, tools and techniques that underpin The 4 Habits© we can all change our behaviours from habits that damage relationships to habits that strengthen them, on purpose. This means we can all learn to "show up" better, have better conversations and achieve better outcomes in ALL our relationships – with our partners, children, colleagues, friends, everyone! These four habits are so fundamental to all relationships that they continue to resonate around the world through their TEDx Talk, which now has in excess of 1.6 million views:
Habit #1 – BE CURIOUS, not critical is about developing our self-awareness (and other-awareness!) through understanding fundamental differences, giving each other "space and grace" to shine in our own strengths and overcome the frustration of unmet expectations.
Habit #2 – BE CAREFUL, not crushing is about building strong skills in managing conflict, learning to treat each other well no matter how heated the argument, and working towards genuine resolutions so that relationships are strengthened not damaged through conflict.
Habit #3 – ASK, don't assume is about learning to build mutual trust and respect in relationships by clarifying values and having courageous conversations about things that really matter to us when necessary, overcoming the hurdles of mistrust and distance that can creep into relationships.
Habit #4 – CONNECT, before you correct is about learning to build great rapport, warmth and connection in relationships by consistently communicating appreciation and love in meaningful ways, and to overcome the hurdle of feeling unvalued because of poor communication.
Together The 4 Habits provide the practical "how to" for building Emotional Intelligence in general, and Relational Intelligence in particular.
When we are each equipped with the skills to do relationships well, we turn up as better versions of ourselves. Our marriages and partnerships are strengthened, our children flourish, our organisations and communities thrive, and our nations grow in health.
We can and we must all become intentional about learning to do relationships well, as if our lives depended on it. Because, in reality, they do.
Fancy getting your own personalised signed Copy?
(UK and USA postage ONLY, Sorry!)
So, what are The 4 Habits?
Based on over 25 years of working with relationships, Dr. Andrea & Jonathan Taylor-Cummings first shared The 4 Habits that distinguish between ALL successful and unsuccessful relationships, in their TEDx talk (now with over 2 million views!)
For our relationships to go well, we must all learn to:
BE CURIOUS, not critical
BE CAREFUL, not crushing
ASK, don't assume
CONNECT, before we correct.
This book will show you HOW TO do those in practice.