Relationship Breakdown
and the Workplace
Groundbreaking research shows that high-pressure work environments are having a negative impact on home relationships which in turn are having a major impact on how the UK's high-earners perform at work.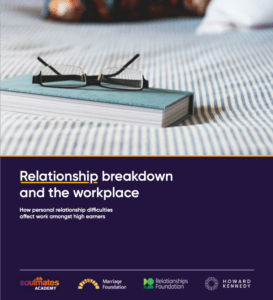 Relationship breakdown and it's impact on the workplace is probably more common than you think and costs more than you might imagine.
50% of high earners 

said work pressures affect their personal relationships
However, employer response is often poor
Employers unware of the issue
Knew, but offered nothing
Knew and offered time off
to experience relationship difficulties
said they have experienced serious relationship difficulty whilst in their current or similar role. 
Experienced serious relationship difficulty
This is a stark contrast to 20% within Great Britain as a whole.
42% of high earners 

say their problems in personal relationships resulted in poor performance at work
This is a similar figure to those who will be diagnosed with a mental illness in their lifetime.
An issue that costs UK Employers £42-45bn per year.
Happy to talk - feel free to contact us driectly
Call us directly on:
Andrea:  +44 (0)7736 777 521
Jon:  +44 (0)7850 751 775
This research was done jointly by Soulmates Academy (The 4 Habits), law firm Howard Kennedy (who commissioned the YouGov surveys), and the think tanks Marriage Foundation and Relationships Foundation.