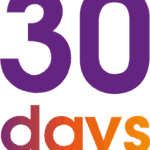 Hi there… and welcome to the introduction to this series, 30 days to Better Relationships.  We'll kick off with the teaching tomorrow. But for today we just wanted to set the context and let you know what you can expect over the next 30 days and how it will help you have better conversations and better outcomes.
There is a brilliant Jamaican saying which (translated) is "see me and come live with me… are two different things". The experience of life together is very different before and after two people live under the same roof – and this is more than just the bad habits of clothes on the floor and toothpaste on the sink! Intuitively we get that doing life together with someone takes effort but why do we behave as though merging two lives into one will happen automatically?  We think we know each other well enough to set up house together – but that is just the beginning of the journey.
We all turn up with our own luggage – some visible, some invisible – like emotions, expectations, hurts, assumptions, hopes, dreams.  Then we go through the process of unpacking or spilling out our stuff… Through the twists and turns of life we discover more about each other – more to love… and more that frustrates. More that's loveable… and more that is not so lovely. About our partner… and about ourselves.
Some things will be identical to your partner, some will be a shock to them, some will be a great delight.  How we go through this process of mutual surprise and sensemaking as life throws challenges at us is what will make – or break – our relationship.
It takes skill, it takes insight, it takes patience, it takes grace, it takes being on purpose.  That's what this series is about. How to do our part to ensure we each develop habits and the emotional intelligence to "turn up well" in our relationships, have courageous conversations when we need to and do what it takes to enjoy a long, mutually satisfying life together.
We're looking forward to sharing the journey with you. Tomorrow we'll get started with how you can actually take control and manage the "temperature" in your relationship to create the level of warmth and connection you desire.
Andrea