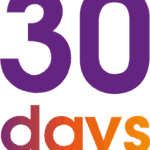 Welcome to Day 4 in this series of 30 Days to Better Relationships…
Yesterday we shared an overview of the four fundamental habits that distinguish successful from unsuccessful relationships.  Today we will begin to unpack habit #1 – BE CURIOUS, not critical.
When we meet and start getting to know someone, whether colleague or life partner, what we see is just a small fraction above the surface of who they really are. A number of studies have shown that the behaviour we observe in others, or demonstrate ourselves, is only 10% of what is really going on.  Underneath the surface, there are many things that drive our behaviour – different needs, expectations, assumptions. The more we understand about ourselves and others, the more we are able to understand our own expectations as well as theirs and anticipate behaviours – theirs and ours – especially under pressure.
When Jon & I got married we thought we knew each other inside out.  We had met at business school, studied together, socialised together, both went into City professions and then spent an amazing year living and working in Japan together.  Then when we got back to the UK, we set up a business together and all hell broke loose! We had such different workstyles and expectations of what the other should be doing that we ended up in constant frustration and arguments.  This was a frightening time because our future – financially, and as husband and wife, depended on it.
In desperation we looked around for help and came across a video-based relationship course that rescued us.  We discovered that the things that frustrated us the most were our strengths which, at the time, were unrecognised, unappreciated and out of balance.  Instead of constantly criticising each other, we learnt to give each other the space and grace to "be", divide roles and responsibilities in a way that allowed us to play to our strengths, cover for each other's weaknesses and become a really strong team.  
So often we miss out on great teamwork because the people who complement us the most can be the most frustrating to live and work with – until we understand their respective differences and the strengths they offer.  Don't criticise differences – make a study of them, value them and treasure hunt the strengths that they bring. What differences have been grating on you or on your partner? What hidden gems might there be for your relationship? Be curious to discover more – what you hate, someone else will celebrate.
Tomorrow, we're going to continue the conversation around developing Habit #1 by understanding some of the fundamental differences that exist, by and large, between the genders.  See you in the morning!